Business Publications
COVID-19 Business Impact Insights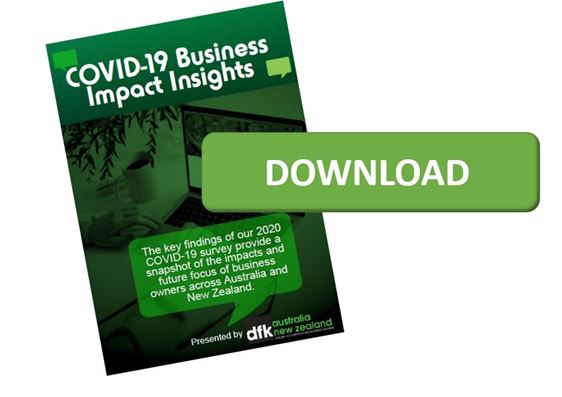 The key findings of our 2020 COVID-19 survey provide a snapshot of the impacts and future focus of business owners across Australia and New Zealand.
2018 Wavelength Survey-cyber security concerns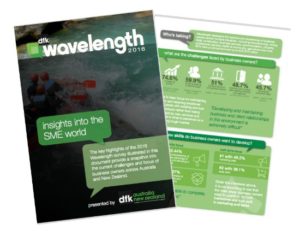 Following our latest annual survey, DFK ANZ chair, Cheree Woolcock, noted concerns around the issue of cyber security were higher than a year ago, with 72% of business owners moderately or highly concerned about the issue, up from 64% in 2017.
The survey also revealed a staggering 46% of respondents were excited by welcoming in new technology to their business, up from 40% in last year's survey.
In addition the survey covered disruptors and social media usage, as well as the classic areas of challenges, technology and IT, self-education, marketing and financial trends. You can download the latest version here .
HR Resources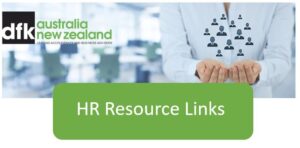 DFK ANZ Newsletters
We send a regular newsletter to our clients, keeping you informed of key taxation and compliance dates, legislative changes that may impact upon you and your organisation as well as new market developments and business growth tips. You can subscribe by clicking here.
2020
For our Winter newsletter please see DFKANZ Winter 2020 Newsletter
2019
For our Winter newsletter please see DFKANZ Winter 2019 Newsletter.
For our Autumn newsletter please see DFKANZ Autumn 2019 Newsletter.
2018
For our Summer newsletter please see DFKANZ Summer 2018 Newsletter.
For articles on GST on new residential property, tips on home loans, and other topics download our DFKANZ Spring 2018 Newsletter
Other articles of interest are in our DFKANZ Winter 2018 Newsletter
For information on a chance for an instant $20,000 write off, Single touch Payroll (are you ready?),   FBT, your BAS and Record keeping …and more…download our DFKANZ Autumn 2018 Newsletter
2017
For tips on work related expenses, small business instant asset write offs, simpler BAS reporting … and more download our spring newsletter DFKANZ Spring 2017 Newsletter
For Family Assistance and childcare rebate payments, GIC & SIC Rates, Private Health Insurance Rebate & Medicare Surcharge, Tax Planning…..and more download our winter newsletter DFKANZ Winter 2017 Newsletter – 
Read about the ATO & Data Matching, Tax Rate Changes for Temporary Working Holiday Makers, Fringe Benefits Tax, Fuel Tax Credits….and more in our Autumn newsletter DFKANZ  Autumn 2017 Newsletter